CSR Pinkley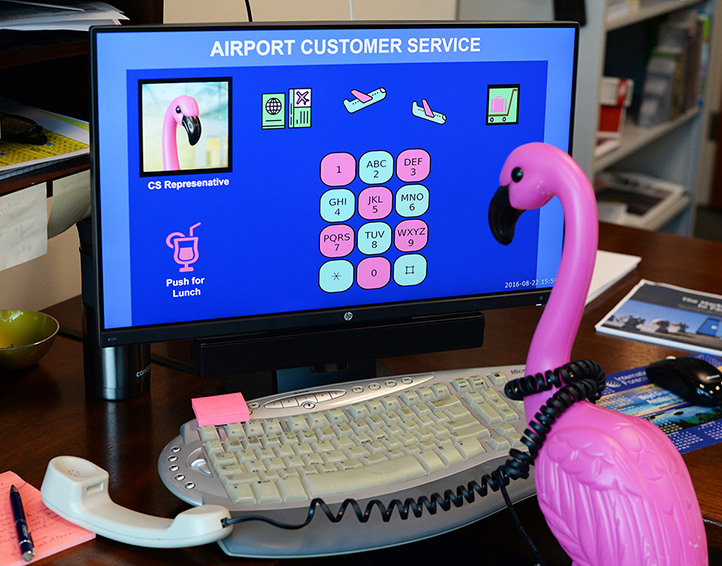 CSR Pinkley
Pinkley Flamingo is in a tangle! He's spent the past three days in his job as Airport Customer Service Representative. And Brother & Sisters, let me tell you, he's failed miserably – but wait – we're getting ahead of our story!
Let's start at the beginning —
It was our last ditch effort to find Pinkley gainful airport employment. How much damage can he do replying to customers? We'll control him, train him, teach him humility and manners. We'll edit his responses!
"Pinkley, please respond to these emails appropriately."
"Oh sure, I can do that fur cryin' out loud!"
Pinkley read the first email. It was from April (her name, not the month, for crying our loud!):
"We are here often since my husband travels frequently for work. I am quite frankly tired of squattting to pee in the cel [sic] phone parking lot!" *
Pinkley blinked, blushed, and paused — then he typed as fast as he could:
"Classy! I just got to say even moi knows to use newspapers fur cryin out loud!"
Before a supervisor could even glance at the response, Pinkley smashed the SEND button and left for lunch.
90 minutes later he wandered back and read another email:
"We are going nuts with the flies that appear to be in all the waiting rooms. I would suggest fly swatters and insect treatments everywhere. It is sad that we will always remember this airport for its flies." * *
Pinkley considered a moment — then typed:
"Flies happen!"
He swatted the SEND button lickety-split and wandered off for a snack.
He returned much later and read a third customer email:
"WHY are you allowing drivers to park their cars at the end of the parking lanes?! Whomever is in charge of this needs to GROW A PAIR and start ticketing these people!!" * * *
Pinkley pondered. He'd never considered such a thing! 

He typed: "I'm in charge for cryin' out LOUD and why would I want TWO BEAKS?!"
He smashed the SEND button, flipped the power switch, and called it a day. He was exhausted!
The next day, more of the same —
Having Pinkley answering email was not a good idea. Maybe he could handle the phone —
Pinkley eyed the phone computer touch screen.
"Oh sure I can do this!"
The phone rang, Pinkley picked it up.
"This is Pinkley Flamingo, the resident 'mingo of the Springfield Airport and you are so privileged to talk to me 'cause I'm in charge around here fur cryin' out loud!"
Taken aback, the caller tried to explain that her luggage was missing. Pinkley cut her off:
"That's an airline prob' fur cryin' in the bucket!"
He pecked the END button –– hanging up on the poor woman.
It was at this moment that Pinkley noticed the "lunch" button on the touch screen.

 The rest of the day was a total write off. 

That evening Bill, the airport custodian, came by Pinkley's cubicle. He found beer bottles, a pile of pizza boxes, and a note.
Bill adjusted his coif ' and stared at the note with great intensity. It was from Pinkley.
" ... this is more, than i can take FUR CRYIN' OUT L0Ud , gonna take more than beer and pizza … for me to deal with … I quit! " * * * *
-------------------------------
* This is a real complaint. Edited for length and language.
** Also real. Maybe edited for length and language.
*** Couldn't possibly make this one up. Edited for LENGTH and INDELICATE language.
**** Might be real. Edited for language.